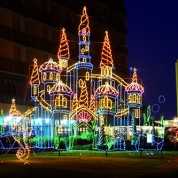 888.826.2326
info@OceanfrontInn.com
Upcoming Offer
Sign up for notifications »
November 18, 2016 - January 1, 2017
Escape to the beach this Holiday Season for warm hometown hospitality to receive up to 15% off your stay and experience festive Holiday Lights at the Beach, complimentary to all guests. To wrap up your Holiday Beach Escape, your package will include a tote bag, unique Christmas ornament and handmade chocolates. Your Holiday Escape won't be complete without shopping at local's favorite Lynnhaven Mall using coupon book provided.
888.826.2326
info@OceanfrontInn.com
Upcoming Offer
Sign up for notifications »
Wine Lovers unite at the Coastal Virginia Wine Fest! Enjoy the event with a full, hot cooked to order breakfast, our hometown hospitality, and a peaceful Oceanfront view at The Oceanfront Inn.