Valentine's Day at The Beach!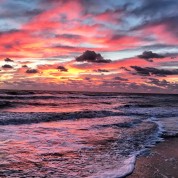 Looking for something not so cliche for your loved one this Valentine's Day? How about waking up to the sounds of waves crashing on the shoreline, birds working a school of fish, breeze blowing through the curtains on your private balcony, dolphins energetically playing in the surf and nothing but your loved one and family smiling.
This is what Love at the Beach is all about. Silencing the annoyances of everyday life and getting away even if for one night. Creating the memories, those smiles and laughter that you can cherish forever.
We're here for you. Let us know how to make your Valentine's Day (and beyond) wonderful!