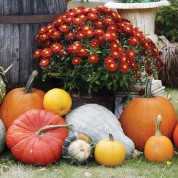 Take advantage of low off-season mid-week rates and seasonal activities for group stays during this time period.
History, Happenings and Hauntings!
September 18 – November 13, 2018, September 18 – November 9, 2019(Sunday – Thursday)
DAY 1
Afternoon arrival at hotel. Evening narrated drive through Norfolk's Freemason District where 200 year old homes are located along cobblestone paved streets filled with local legends and lore! Enjoy dinner in a 150 year old converted church, complete with spirits of its own!
DAY 2
In Virginia Beach, your guide will entertain with stories of mysterious happenings at historic homes, Old Cape Henry Lighthouse and Old Coast Guard Station. Why is there a street named Witchduck Road? Learn about these fascinating stories as you ride through the resort city. Free time for retail therapy and lunch at Town Center followed by a visit to Edgar Cayce's Association for Research and Enlightenment (A.R.E) to "unlock" your dreams! Tonight imagine shipwrecks and pirates as you dine overlooking the Chesapeake Bay.
Day 3
Tour Naval Station Norfolk, the world's largest naval base where ghost stories attributed to the Navy run back to the days of sail. In downtown Norfolk see St. Paul's Church, with tombstones dating back to the early 1600's. Visit MacArthur Memorial and have lunch on your own at MacArthur Center. At Nauticus enjoy hands on exhibits and tour the Battleship Wisconsin, which boasts its very own hauntings! This evening relax as you cruise the waters of the Elizabeth River on the Norfolk Spirit while enjoying a sumptuous dinner buffet and entertainment.
DAY 4
Enjoy a trackless tram ride at Norfolk Botanical Gardens before departing for home with fond memories of your visit to Coastal Virginia!
Includes:  3 or 4 nights, Breakfast each morning, 1 Dinner at hotel, Featured local restaurants, Featured attractions, Featured add-on activities, Your choice of optional activities; Professional Guide service.
Restrictions:  Minimum 15 rooms; Minimum 30 people
Limited weekend dates may be available, based on availability and minimum night stays
Tour Itinerary produced by Phillips Destination Management Company
Optional regional activities:
Offer subject to change based on availability and dates selected. Black-out dates may apply. Other restrictions may apply. For additional itinerary planning assistance contact your local professional tour operator or we can provide referrals and further assistance through a local professional receptive operator.
800.548.3879
sales@OceanfrontInn.com