Virginia Beach Celebrates 50th Anniversary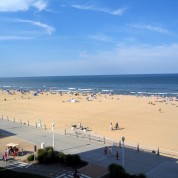 As Virginia Beach commemorates the 50th Anniversary of becoming a city in 1963, I find myself reflecting on my lifetime here as a native in Virginia Beach.  I realize too my native husband is celebrating the same milestone this year on his 50th birthday.  Furthermore, my native parents would have been celebrating their 50th Anniversary this year.
With these similarities, I feel I can relate to the evolution of the city I was raised and share with many visitors that choose Virginia Beach as their vacation destination.  I think back when my parents decided to purchase a home in the newly formed city, how excited they must have felt to be starting a new life together in a new city!  My husband's native parents too share a special connection to the resort when they first met on the beach while my father-in-law lifeguarded our shores.
The same city that later merged with Princess Anne County welcoming summer tourists to the resort area since the 1920's decided it was time to establish itself as the thriving city it was becoming.  The city's diversity remains today with its agricultural area, natural areas, resort area and business, shopping, and dining districts which now encompass vibrant Hilltop, Lynnhaven Mall and the newest Town Center area developments.   Just like the city's diversity, my husband and I have very distinct memories growing up here.  Me of my days sunning or crabbing at the beach to shopping or dining out; my husband would be at the beach for sure but also exploring our wooded and natural areas.
As the city continues to evolve from the resort city into a year round destination, I wonder what the next 10 years will bring?  As the city's leaders and business owners come together to build upon the last 50 years to create new experiences for our visitors and residents alike, I look forward to being a part of our bright future!
~ Homegrown Original