Underwater Adventures on a Rainy Day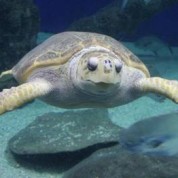 The rain fell so effortlessly on the rolling waves, so beautiful yet putting a damper on what was thought to be a warm sunny afternoon. After searching for some non-beach activities, since mother nature decided not to cooperate with my beach plans I figured why not try and go underwater at the Virginia Aquarium.
From the baby otter to the to-close-for comfort shark tank the aquarium was nothing but extraordinary. I was lost in an underwater world, completely forgetting my beach plans. Even though I didn't get to soak up the sun, I don't think there's a better way to spend a rainy day in Virginia Beach!