There's always Beauty at the Beach!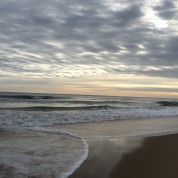 It's a totally different experience. It's beautiful, almost magical. The roar from the summer is long gone, the colors of fall have faded and the holiday chatter has quieted. Yet, the beach is still alive and you can feel it, it's starting a new beginning.
Sand swirls by your ankles. My hair gently catches the crisp breeze. The warmth from the sun is welcomed by the winter jacket. No doubt it's January here.  The sand is cool, but soft. The ocean is glistening; sparkling. Revealing a different color than any other time of year. It's bright. It dances. You can feel its energy, its power, its ability to captivate your thoughts and quickly turn them into peace.
I never knew how peaceful winter in Virginia Beach can be. It's like everyone thinks of the beach as a one, maybe two season place to be. It's not. Not at all. It's year round. Every season has a different wonder, something else to experience.
It's still goes that even in January- Life is better at the beach!