The Ocean; the Power, Beauty and Magic.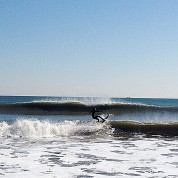 Watching the surf crash along the shore, dolphins playing past the break and the fearless surfers who ride the waves are just one in a typical Virginia Beach day along the oceanfront. But what is so typical about all that? Who is so lucky to see the beauty of the ocean rolling along the shoreline? Let me tell you, at Virginia Beach sometimes you have to take a step back to smell the- eh seashells…?
As I watch the surfers ride the waves I can see their passion, their love for the ocean. It's beauty, so colossal, and merciless. The power it holds. To capture that and become one is beyond me! The boards coast through the seafoam, twisting, turning as he so effortlessly makes his way across the wave to the shoreline.
Standing with my feet at the edge of the water, the ripples of waves running across my toes. It washes the pain away. The fear. Any doubt this beautiful ocean is anything but tranquil. My eyes wander back to the board, this is what he must feel. Not the fear, but the magic the water has over us. Washing away doubt, fear, leaving you with this clean wonderful mind.
Nothing is so typical about that. Nothing can even come close.
~ A Sandy Summertime Dreamer