Planning a group vacation? Some helpful tips!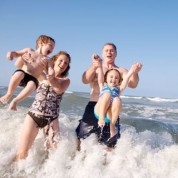 Planning a group vacation? Sounds fun stressful. Don't worry yet. Here are some helpful hints!
Your family reunion is now in your hands! You have been delegated, or maybe volunteered to plan your group's vacation. You thought that sounded fun. Thought it sounded great actually- you can coordinate what YOU think will be a great fit. Oh you are quickly learning that Aunt Bessie, Cousin Louie and even your own mother think very differently!
Don't start worrying yet- there are many tools and advice out there that can help!
First piece of advice. You WILL NOT be able to make EVERYONE happy. It's just not possible- so don't stress the fact. Make your decisions based on your group's needs. If you're mostly families with children under 10, find somewhere that caters to that. If you're mostly an adventurous group- you can find somewhere that caters to that as well. There will always be that one that doesn't 'fit' in that category, but chances are they will be happy to be with everyone and on vacation anyway!
Second piece of advice. When asking professionals their opinion- take it! You may have never planned a group dinner for 35 people and don't know the ins and outs logistically of preparing food for that many. Let them do what they're good at and try not to interfere! Chances are, as long as you communicate what you want with them- they will execute the function better than anyone you know.
Organizational tools. STAY ORGANIZED! Don't spread yourself thin. Delegate tasks to those who want to help. Give them 'jobs' with a specific goal in mind. For example. Let Great Aunt Nancy plan that after dinner game night for the kids, but you make sure she know to plan it after dinner on the second night, since you know there is Busch Gardens and The Adventure Park the other nights. By doing this, you will be able to plan for the bigger picture, without too many 'hands in the pot' making planning so much more confusing, rather you have little elves helping you with the leg work!
Have fun! Have fun! And did I say have fun! This is a fun trip- and you should have fun planning it! In the end, everyone will be so happy and thankful that you were the professional to plan this vacation!
Happy Planning!