ShamROCK your way into Spring!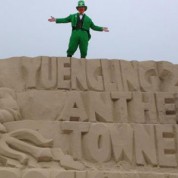 ShamROCK your way into Spring!
We've been gearing up for it all year. Long, cold winter boardwalk runs. Extended gym nights. And not to forget the CRAZY RIDICULOUSLY FUN OUTIFTS!! We've prepared the best we can, and now the race is upon us!
Shamrock weekend. The Marathon. The half. The 8k. The Final Mile. It's all here! There really is something for everyone. Not to mention all the fun (and beer) you will be partaking in this weekend! If you haven't been, don't be discouraged. It's really for everyone, all ages, all types of athletes even us mall walkers!
Make sure you make it down to enjoy the Shamrock races this weekend!